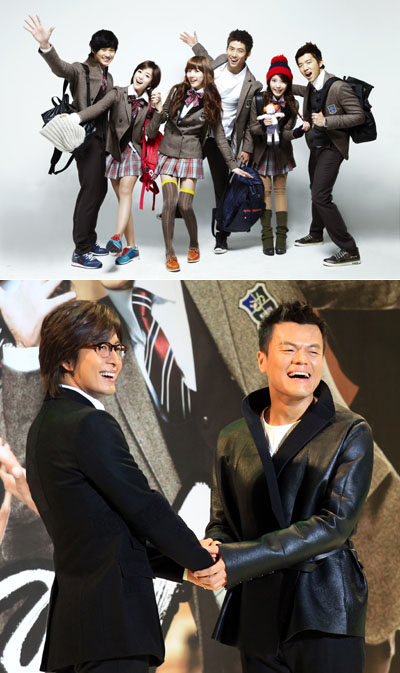 SM Entertainment is rumored to have shown interest in joining KBS's 'Dream High 2', the sequel to the hottest idol drama to date.
The first season was a successful collaborative effort between actor Bae Yong Joon's company Key East Entertainment and JYP Entertainment. Now it looks like they'll be joined by SM Entertainment, thanks to the good relations between the company presidents.
A KBS official stated, "SM President Kim Youngmin and JYP President Jung Wook are good friends. As far as I know, they're both very interested in collaborating to make
another great music-based drama. Both companies are willing to use all their resources in order have the best outcome possible, so it would be something to look forward to."
Lee Eungbok PD of the original 'Dream High' series is currently working on the second season, and plans to air it in early 2012. Due to the first season's high popularity, everyone is excited to see who will make up the main cast for season two. Now that SM Entertainment will supposedly thrown in their hat along with the other companies, netizens are already naming SM artists like TVXQ, SNSD, Super Junior, SHINee, and f(x) as possible cast members.
A SM representative has however urged caution, "It's true that we have had positive discussions about a co-production. But talks are still on-going and nothing has been decided as yet."
Meanwhile, 'Dream High' season one will be released through DVD on September 4th. Having enjoyed much popularity in Japan, the show will also have a special event at Japan's Saitama Super Arena Hall called the 'Dream High Premium Event 2011.'
---------------------------------------------
Source & Photo: Sports Seoul via Nate, Star News via Nate